When it comes to nursing scrubs, there are few brands around that offer the same quality and variety as Cherokee. In fact, the brand currently has 12 different collections from which to choose, including everything from understated scrub pants to brightly coloured cartoon character hats. For these reasons, Cherokee is always a popular choice with healthcare workers around the world, and with more than 20 years of experience in crafting well-made medical uniforms, the California-based brand is also known for its commitment to durability and comfort. 
Two of Cherokee's most popular lines are the Revolution collection and the Infinity collection, both of which move away from more traditional scrub aesthetic and provide a contemporary look that never compromises on form and function. But which is the right collection for you, and how do you choose between these two high-quality scrubs lines? To answer those questions, here, we compare the Cherokee Infinity and Revolution collections so you can find the perfect fit for your day-to-day life.
Cherokee Revolution Scrubs Overview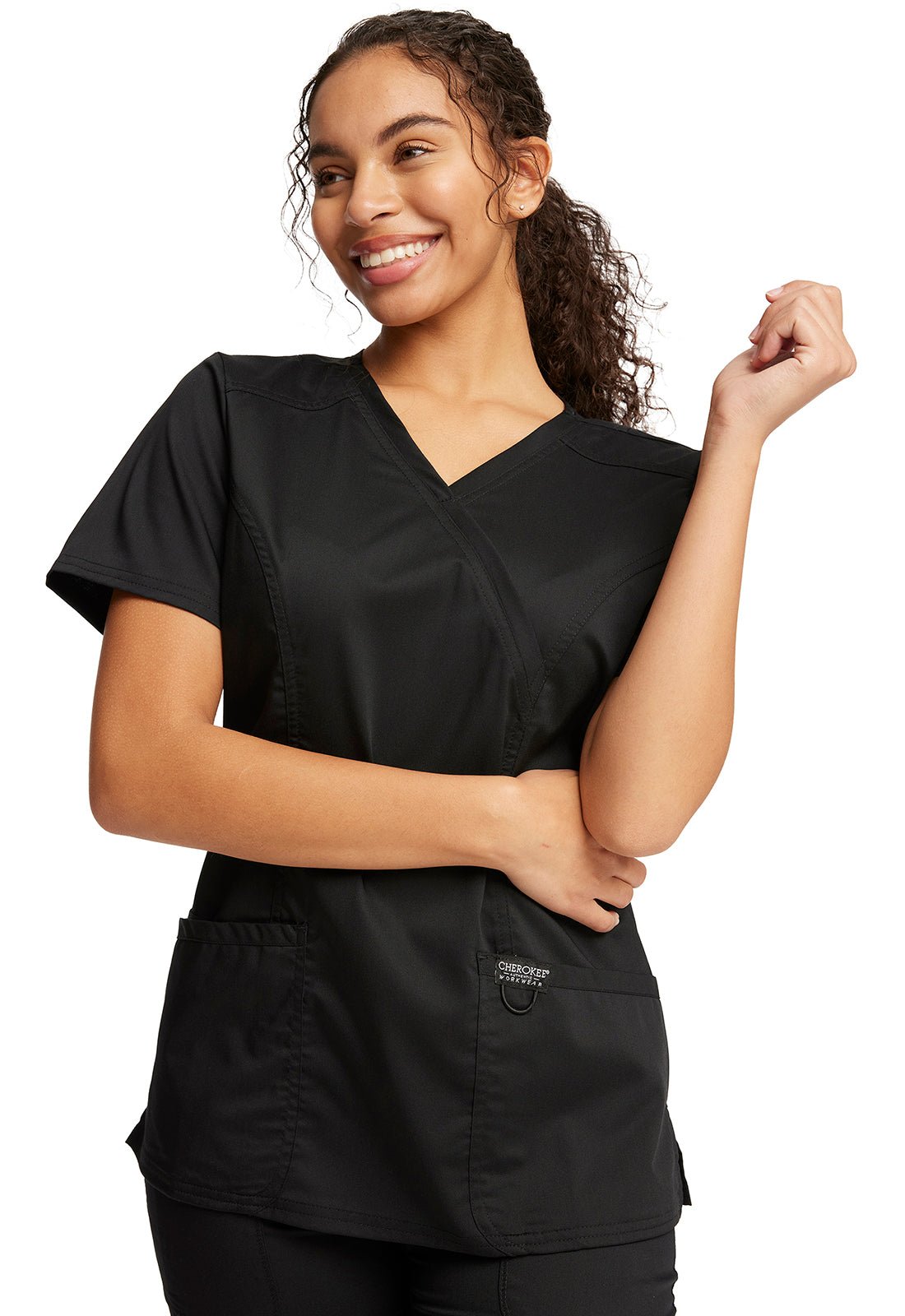 The Revolution line of medical scrubs combines high-performance fabrics and athletic-inspired features available in various styles and colours. Scrub tops are available in v-neck, round neck, and mock wrap variations, while pants are available in jogger, flared and straight leg styles, with a mid-rise drawstring waistband suited to all body shapes and sizes.
A blend of polyester, rayon, and spandex is used during manufacture to ensure a comfortable fit, with 4-way stretch features giving flexibility and freedom of movement for those long shifts on the ward. For increased functionality, both pants and tops feature generous pockets and loops that can be used to store equipment and accessories while on the move. 
In addition, it's worth noting that Cherokee also offers a range of workwear in the Revolution Tech collection, an offshoot of the standard Revolution range. These tops, pants, and scrubs jackets are designed for more challenging environments, with each item in the collection featuring Certainty® antimicrobial and fluid barrier technologies.
Why Choose Cherokee Revolution Scrubs?
What sets Cherokee Revolution scrubs apart from other collections is a minimalist aesthetic that sticks to simple block colours. That's not to say you can't brighten up the ward with a little pink or sky blue, however, you won't find any patterns or prints on these scrubs and other details, such as collars and pockets follow that same understated look that's particularly popular with nurses and medical professionals in hospitals and while visiting outpatients.
Additionally, the Revolution Tech collection adds a profession dimension for those healthcare professionals working in operating theatres and other areas where antimicrobial and fluid barrier materials are highly sought after. This means you can find stylish scrubs that a made for the worst any ward can throw at you, and still come out looking good at the end of your shift.
Infinity Scrubs Overview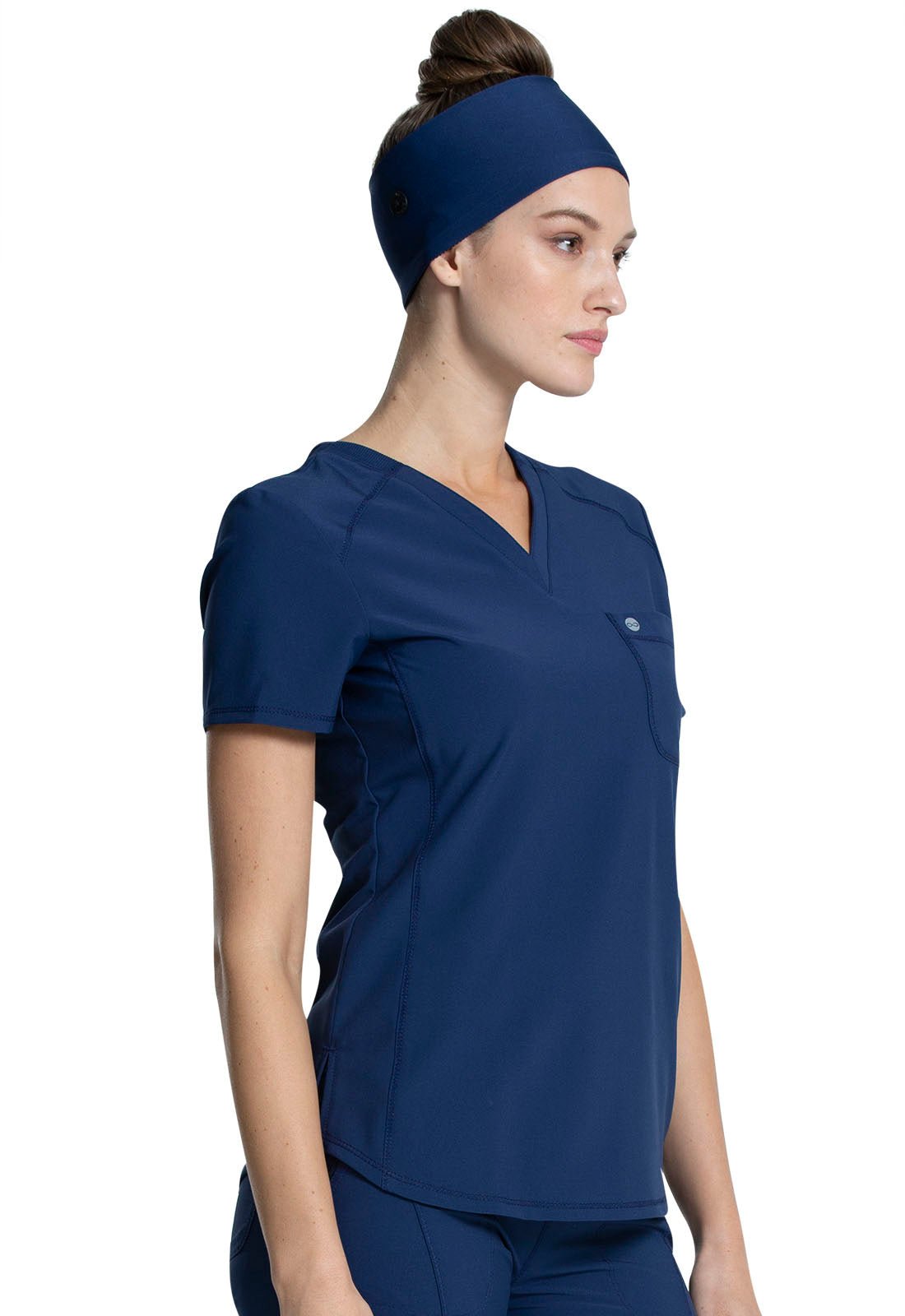 Cherokee Infinity scrubs are made for the medical professional on the move, featuring soft and stretchy fabric for all-day comfort and moisture-wicking properties to help keep you dry and fresh during those long shifts. Available in various styles and colours, as well as eye-catching prints and patterns, the Infinity collection allows for plenty of individual expression on the ward. Additionally, the athletic inspired aesthetic remains prominent within this collection, even extended to a range of running-style shoes and sneakers.
Tops, lab coats, and jackets provide a contemporary look with zip-front, v-neck, and polo designs, while jogger scrub pants give a more relaxed feel. Standard zip-front Cherokee workwear pants for men are also available, while in the women's scrubs section, both skirts and dresses are available. Pockets and loops for storage (even on dresses!) help add to the functionality of the Infinity range across all clothing types.
Why Choose Infinity Scrubs?
The two main highlights of the Infinity scrubs collection are the use of antimicrobial fabrics that both help reduce sweating and kill bacteria associated with body odour, and the sheer wealth of different designs and clothing types. Combined, these factors make Infinity among the best nursing scrubs for healthcare professionals who are constantly moving while at work, as well as providing plenty of choice when you open your wardrobe each morning. 
Additionally, an inclusive range of sizing options ensures that these Cherokee uniforms are suitable for any body shape and size, with options from XXS to 5XL, and the flexible fabric in all the garments provides a flattering fit. Finally, with options in male, female, and unisex cuts, anyone can make Infinity collection their go to scrubs set.
Differences Between Cherokee Revolution & Infinity Scrubs
Cherokee Revolution and Infinity scrubs share quite a few similarities, including in style and materials. However, the antimicrobial properties of the Infinity range are a huge bonus to those in hot climates or who find themselves running around all day. Having said that, if you upgrade to the Cherokee Revolution Tech workwear range, you'll get antimicrobial properties and a durable fluid barrier as well, although these scrubs are probably best used for shorter periods while in the operating theatre.
Other differences to consider are the colours and prints available, with the Infinity collection offering a much broader range of choice, particularly when it comes to patterned scrubs, with stylish prints that help you stand out from the crowd.
Which is the Best?
At the end of the day, both collections offer high-quality scrubs with features that cater to the demands of all kinds of healthcare workers. Choosing the best scrubs for your particular job and personal preference is simply a matter of trying them on and seeing how you feel. Both collections have a range of options in female, male, and unisex cuts in multiple sizes, meaning there's a wealth of choice whatever your gender or body shape.
For more information on these two collections, Cherokee uniforms in general, or any other questions you may have about scrubs, contact us today to discuss your specific requirements or stay tuned to the ScrubsIQ blog.