With the rise of the body positivity movement, more medical professionals than ever before are moving away from ill-fitting scrubs and medical uniforms and searching out something all-together more flattering and well-tailored. This means that there has been an explosion in plus size scrubs hitting the market, and today, finding the perfect fit for your body shape and size is simple—especially if you read our guide on the best scrubs for plus size healthcare professionals, whatever your role!
Tips For Finding the Perfect Plus-Size Scrubs
Whether you're looking for a classic fit or something a little more contemporary, finding the scrub style that suits you best is easy with these top tips. Read on to learn how to choose the perfect plus size scrubs for your body type.
Research and explore brands
Start by researching different brands that specialise in plus-sized scrubs. Look for brands that offer a wide range of sizes and styles specifically designed for plus-sized individuals. Online reviews and recommendations from others in the medical field can also be helpful.
Check size charts and measurements
Carefully review the size charts provided by the brand or retailer to determine your accurate measurements. Take your own measurements, including your bust, waist, and hip sizes, and compare them to the size charts to find the best fit. 
Look for stretchy and comfortable fabrics
Look for scrubs made from stretchy and breathable fabrics that offer comfort and ease of movement. Fabrics like cotton blends or polyester blends with spandex are often a good choice, as they provide both comfort and durability. 
Consider style and design
Scrubs are available in various styles and designs. Consider your personal preferences and workplace requirements. Look for features such as adjustable waistbands, side slits, or stretch panels that can enhance the fit and flexibility of the scrubs.
Pay attention to length options
Scrubs come in different lengths, including regular, petite, and tall. Choose the length that suits your height to ensure a proper fit. If you're unsure, consider brands that offer multiple length options or those that can be easily hemmed or tailored.
Look for inclusive sizing options
Some brands now offer inclusive sizing options, such as extended or inclusive sizing ranges that cater to a broader range of body types. These brands often have a better understanding of the unique fit needs of plus-sized individuals.
Shop from specialised retailers
Look for online retailers or physical stores that specialise in plus-sized scrubs. They are more likely to have a wider selection of sizes and styles tailored specifically for plus-sized individuals. 
Read customer reviews
Before making a purchase, read customer reviews or feedback on the scrubs you're considering. Reviews can provide insights into the fit, quality, and overall satisfaction of other customers who have purchased the same scrubs
Utilise size filters and customer support
When shopping online, take advantage of size filters and sorting options to narrow down your search to the available plus-sized options. If you have any questions or concerns, reach out to customer support for guidance and assistance.
Try before committing
If possible, try on scrubs before making a final decision. If you're shopping in-store, take the time to try on different styles and sizes to find the ones that fit and flatter your body shape the best. If you're shopping online, consider ordering multiple sizes or styles to try on at home and return the ones that don't work for you.
Enhancing Confidence — The Top Choices for Plus Size Scrubs
Choosing the right scrubs set to enhance your confidence and comfort during those long shifts may be as simple as finding a brand you like and exploring its extended size options. However, other factors come into play when you're considering different types of scrubs. These include whether they feature an elastic waistband, drawstring, or side vents, as well as things such as stretchy fabric or flattering cuts.
With this in mind, we've rounded up 5 examples of high-quality plus size nursing scrubs for both men and women to give you an idea of what to look for. Check out the examples below and           
Infinity Scrubs Polo Shirt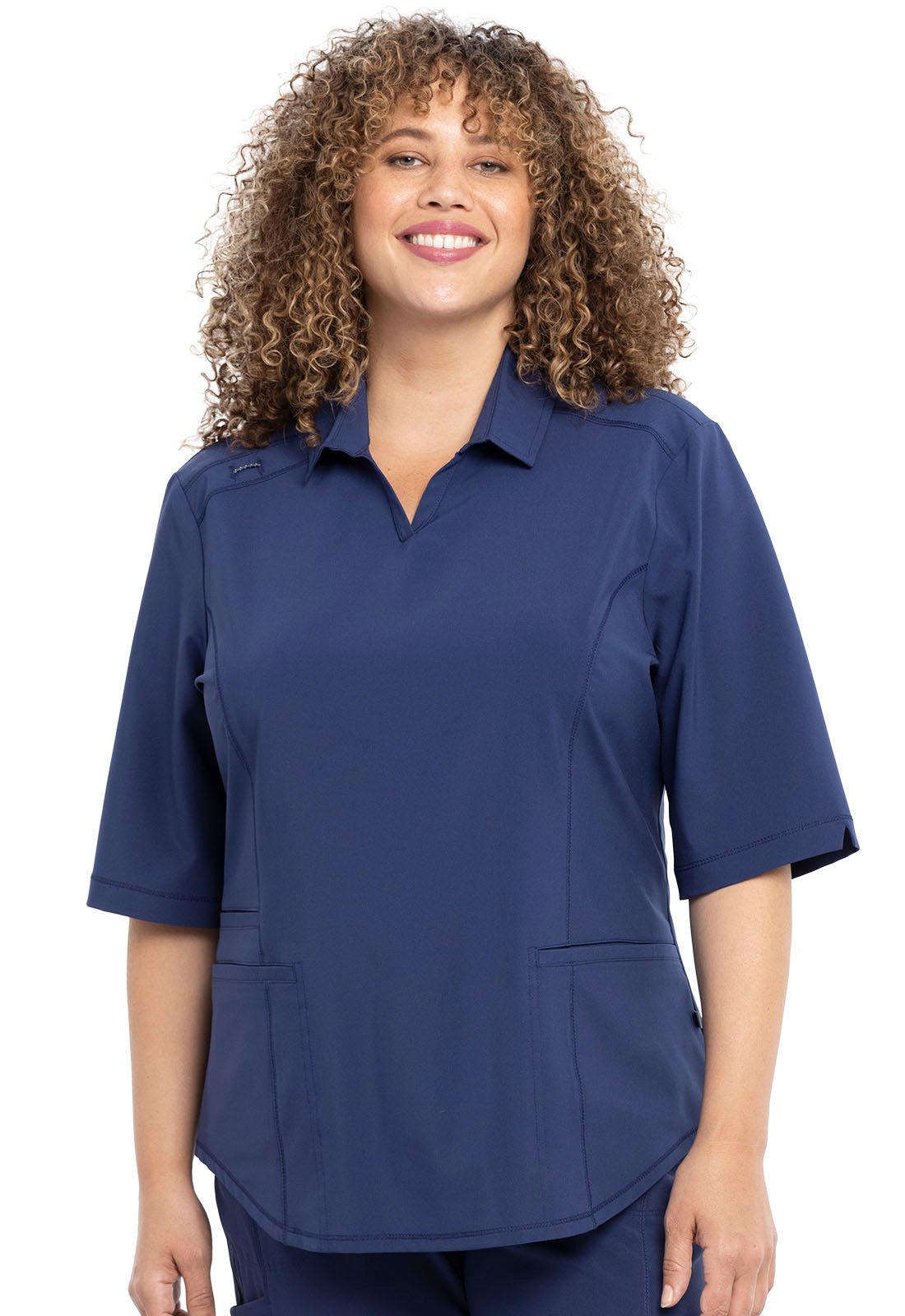 A contemporary polo-style scrubs top with an open placket, rib-knit back panel, and front yoke seams that help provide a flattering and contemporary fit, the Infinity Polo Shirt is versatile and stylish. Four-way stretch technology add extra flexibility, while moisture wicking materials help keep you dry and odour free even under stress on long shifts.
Made of 95% polyester and 5% spandex poplin, this polo is wrinkle resistant and easy to care for, with added Certainty fluid barrier technologies helping prevent stains. Finally, the Infinity Scrubs Polo Shirt has a fashionable pop collar and is available in a range of colours to suit your preference or the requirements of your hospital or clinic.
Statement Scrubs Ribbed V-Neck Top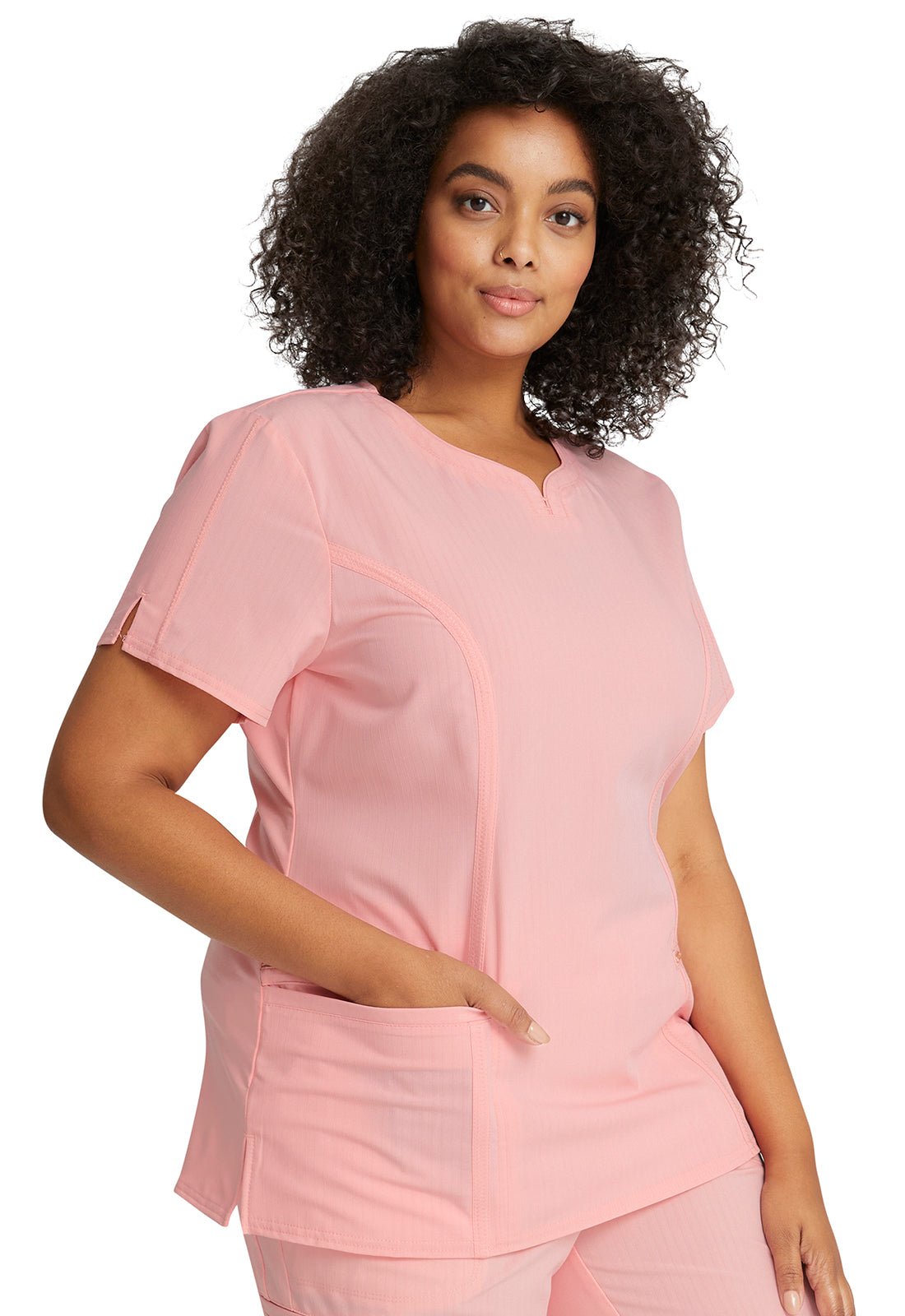 This Statement Ribbed V-Neck Top from Cherokee workwear features a blend of 76% polyester / 19% rayon / 5% spandex linear texture dobby for a fir that stretches with you without losing its shape. Additionally, knit panels at the side and centre back panels provide added comfort and flexibility, while the zig-zag cover-stitch at the front seaming provides a finishing touch to this stylish scrubs top. 
Taken together, this is another contemporary scrubs top that delivers a comfortable jersey knit with four-way stretch fabric that is suitable for plus-size wear. Finally, easy-care materials help you keep this v-neck scrubs top in excellent condition in any environment. 
Infinity Scrubs Mock Wrap Top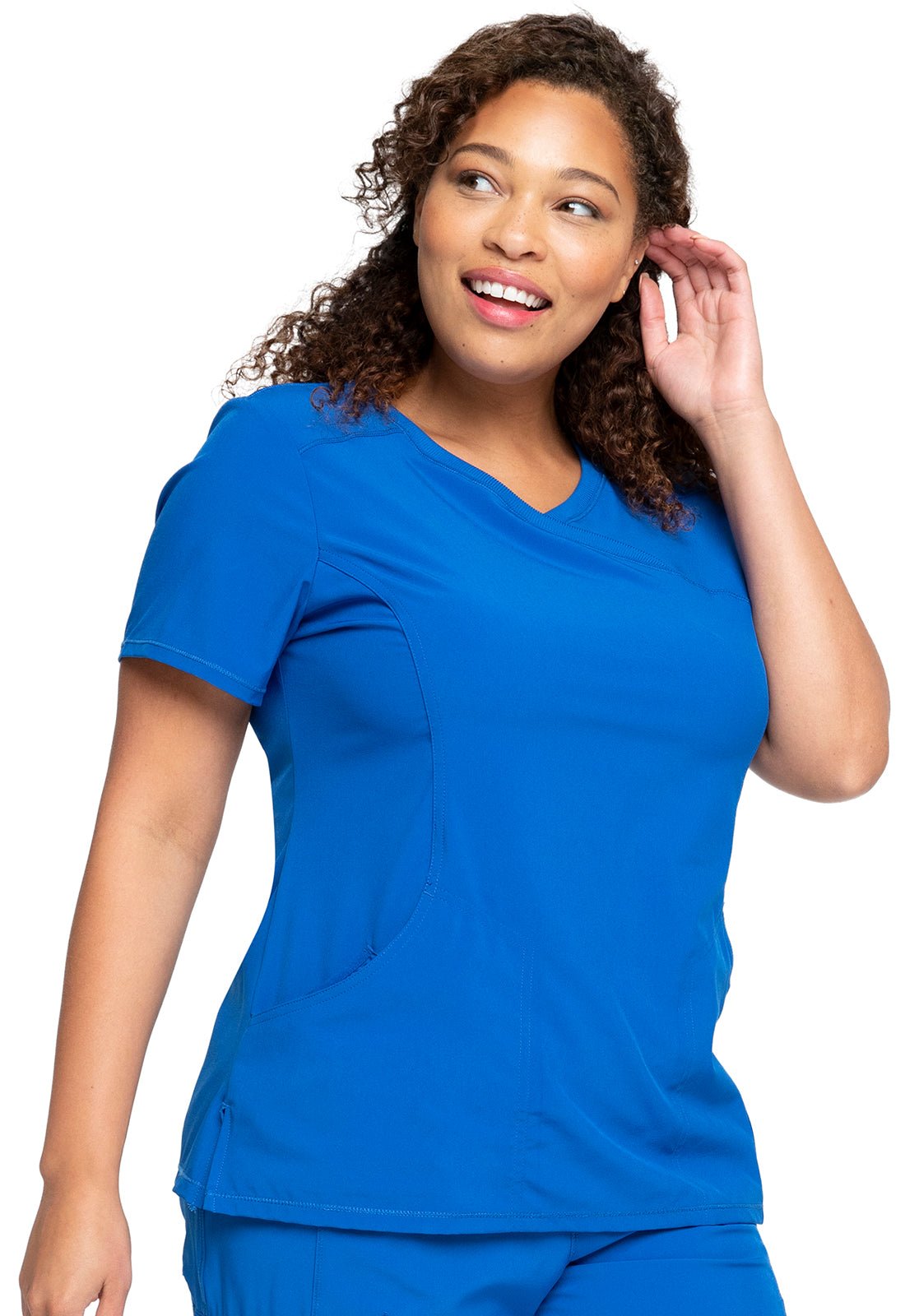 Mock-wrap tops are ideal for plus-sized healthcare professionals, and this Infinity model features front and back princess seams, and side vents for a flattering and comfortable fit. Four-way stretch tech with 95% polyester and 5% spandex poplin ensures this top moves easily with you, allowing for extra movement and flexibility during the most demanding shifts.
Antimicrobial and moisture wicking, this mock wrap top helps you stay dry and minimises odours, while the wrinkle-resistant fabric is easy to care for. Available in a broad range of colours, Infinity Scrubs Mock Wrap Top is an excellent addition to your wardrobe.
Dynamix Men's Cargo Pant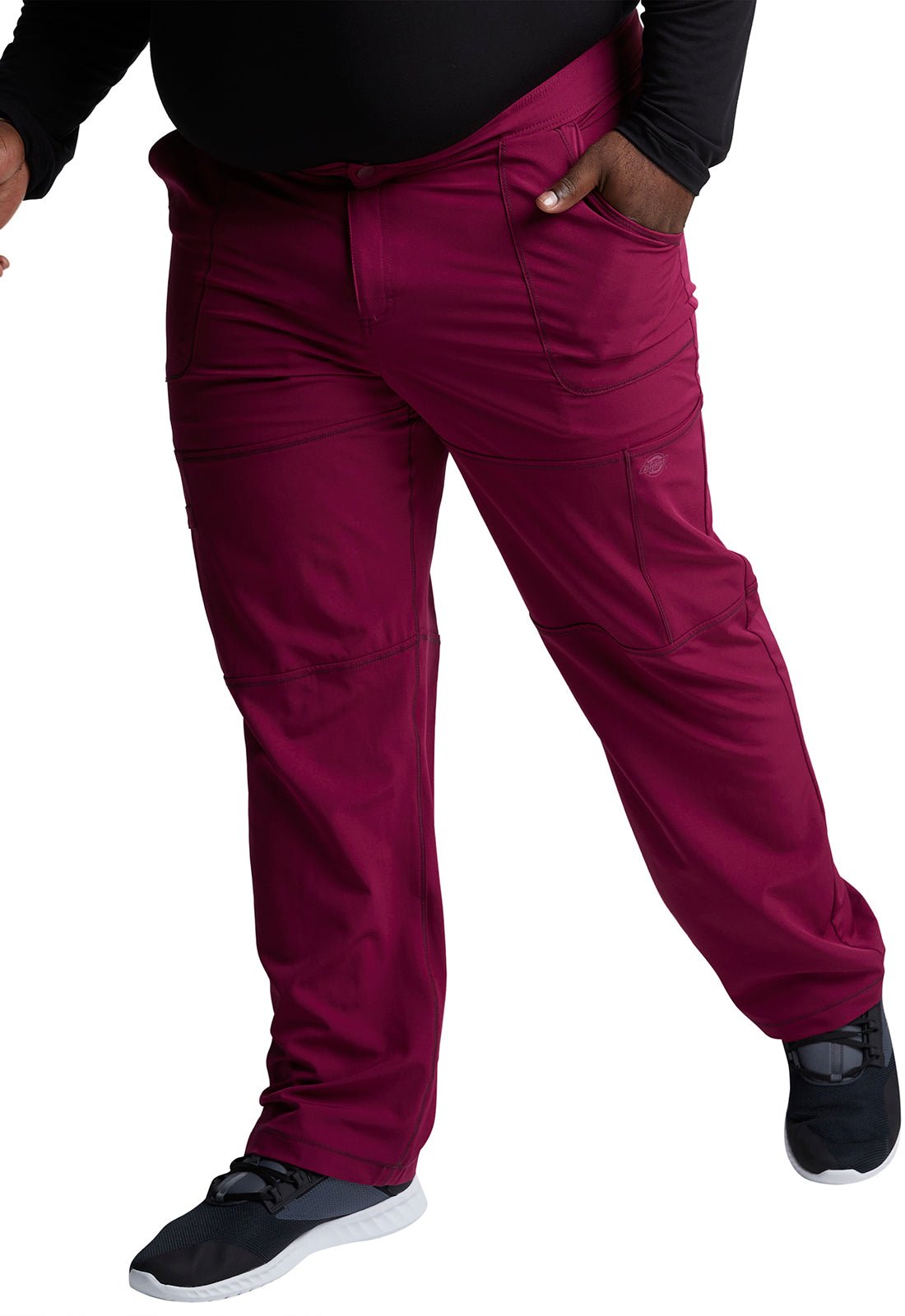 These relaxed cargo-style scrubs pants from Dickies are the ideal plus-size pick. Featuring a straight leg and hidden inseam gusset for an easy fit, the Dynamix Men's Scrubs Zip Fly Cargo Pant are lightweight and ideal for long shifts. Additionally, the relaxed look is flattering, while striking the perfect balance between form and function. 
Durable four-way stretch fabric bears the Dickies reputation for longevity, while wrinkle-resistant manufacture makes them easy to care for. Available in a range of understated, clinical colours in 91% polyester and 9% spandex textured dobby, these pants also feature 6 pockets for storage.
Dynamix Men's Scrubs Tuckable
V-Neck Top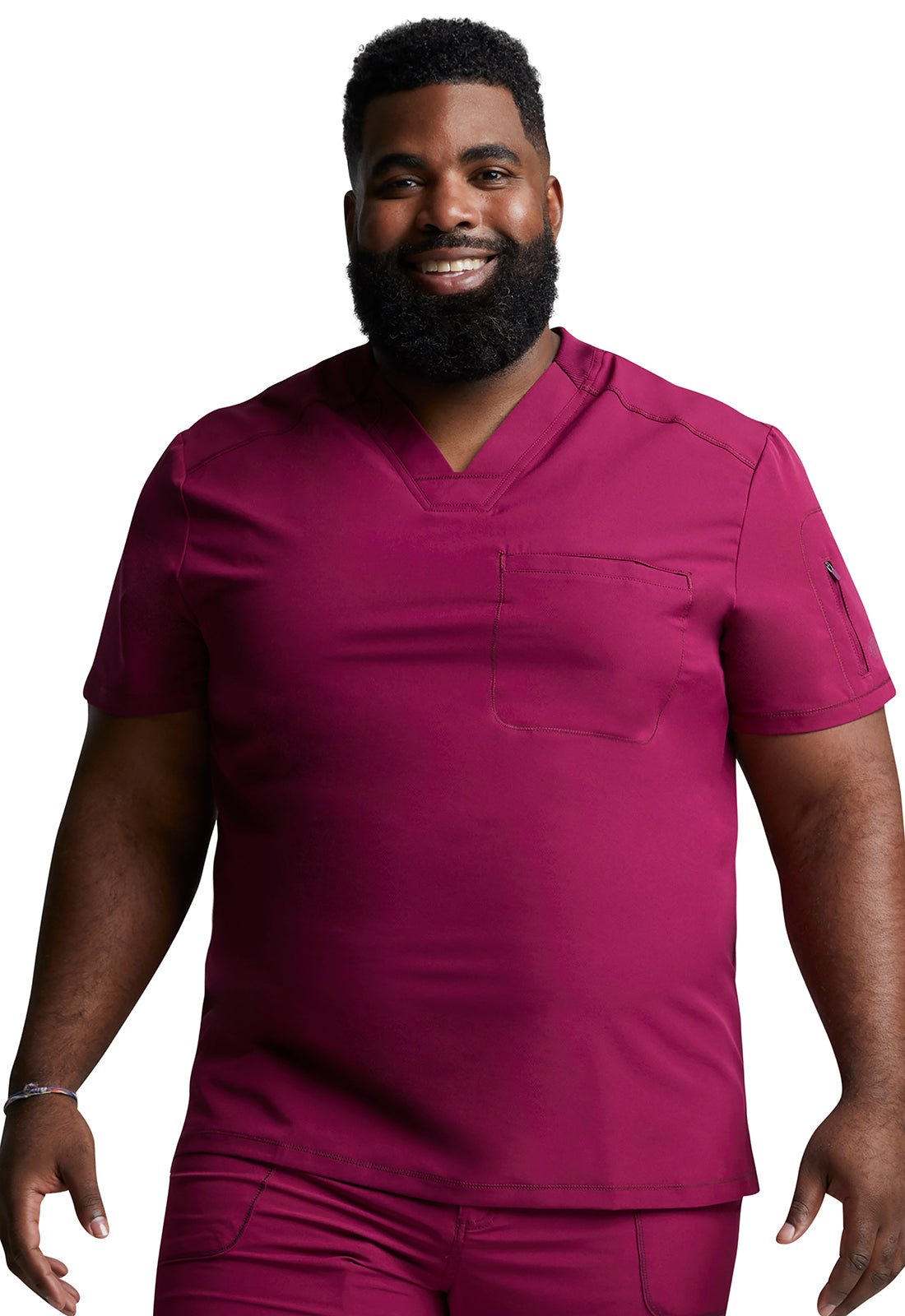 Another Dickies entry, this tuckable v-neck top is fashionable and comfortable for plus-size wearers. Four-way stretch fabric in 91% polyester / 9% spandex textured dobby offers plenty of flexibility, while the rib-knit neckband, side vents, and tuckable hem strikes a balance between comfort and easy movement.
In addition, this v-neck top features moisture wicking technology to keep you dry in demanding environments, as well as wrinkle-resistant fabric that keeps you looking professional. Finally, this top is available in multiple colours to suit your preference or uniform requirements. 
For more information on any of our scrubs, including plus-size scrub jackets and jogger pants and the best design scrubs for women, contact a member of the ScrubsIQ team today and stay tuned to the blog.
 including plus-size scrub jackets and jogger pants and the best design scrubs for women, contact a member of the ScrubsIQ team today and stay tuned to the blog.