When it comes to scrubs, it's not all about functionality, dress codes and uniforms policy, and in fact, today's medical workwear can combine elegant form and fashionable cuts so that any medical professional can really look the part. However, choosing the right types of scrubs and wearing them in the right way is not always simple.
The good news, however, is that we're on hand to guide you on selecting your favourite scrubs that not only fulfil all of your needs while on the wards, but that also help you look good and feel comfortable while doing what needs to be done! Read on to learn more on how to choose medical scrubs, wear them fashionably, and keep them in good shape for longer.
What Are Scrubs and Importance of Proper Medical Attire
Scrubs are the ubiquitous and iconic medical uniforms worn by medical professionals around the world, and they are often designed with functionality and hygiene in mind, as well as durability for long challenging shifts. That said, many manufacturers are recognizing the need for something a little less formal, that still meet industry standards, but also allow for personal style and comfort.
This means that today's scrubs are designed with the perfect balance of form and function, allowing healthcare professionals to feel comfortable in what they are wearing regardless of the tasks that they need to perform. In addition, modern-day fabrics can offer superior durability and easy-clean properties that ensure top-end scrubs last longer and look great even after heavy use.  
How to Choose the Right Scrubs
Selecting the perfect set of scrubs means looking into the types of clothing that already suit you in your daily life. You should consider body type, size, and shape, as well as what sits comfortably on your shoulders—or waist, hips, and ankles for that matter.  Practicality is also another important consideration and healthcare professionals should prioritise high-quality fabrics like moisture-wicking spandex blends for added comfort during long shifts.
Explore these tips to choose the right scrubs and find the perfect fit for healthcare workers every time.
Consider Your Body Type

–– Choose scrubs that flatter your body type and provide comfort during long shifts.
Prioritise High-Quality Fabrics

— Moisture-wicking spandex blends may provide added comfort and durability.
Focus on Fit

— Ensure that the scrubs fit well around your shoulders, waist, hips, and ankles.

Choose Functional Styles

— Look for features like

v-neck top

s

and

jogger

scrubs for professionals

that offer both style and functionality.
Pay Attention to Size

— Select scrubs in the appropriate size to ensure they sit comfortably on your body.
Consider Practicality

— Keep in mind the demands of your profession and choose scrubs that meet the practical requirements of your work.
Find Durable Materials

—Pick scrubs made from high-quality materials that can withstand the rigours of daily wear in a healthcare setting.
Test for Comfort

— Prioritise comfort by trying on different styles and fabrics to see which ones feel best for long shifts.
Look for Easy Care Options

— Choose scrubs that are easy to clean and maintain, as they will be subjected to frequent washing.
Personalise Within Dress Code

— If allowed, add personal touches like accessories or choosing scrubs in flattering colours that align with the dress code.


Tips to Wear Scrubs Fashionably
If you find a favourite set of scrubs that you always turn to, then you can enhance the way they look and fit with these ideas.
Choose Well-Fitted Scrubs

— We recommend that you experiment with scrubs that fit your body well without being too tight or too

baggy

. Many of our customers like spandex blends that fit snugly and stretch with your body.

 
Add Accessories

— Incorporate accessories like

necklaces

or bracelets to add a touch of personal style to your uniform. 
Experiment with Colours

—If your workplace allows, try different colours of scrubs that complement your

skin tone

and brighten your look. At ScrubsIQ we recommend muted shades for skin with cooler undertones and brighter colours for skin with warm undertones. 
Layer Smartly

— Consider wearing an

undershirt

or long sleeve shirt under your scrubs for added warmth and style. 
Play with Patterns

—Select scrubs with subtle patterns or prints to add visual interest to your outfit.
Go for Trendy Cuts

— Choose scrubs with modern cuts like v-neck tops or athleisure pants for a contemporary look. Additionally, our customers love the skinny fit and straight leg pants from Dickies and Infinity respectively. 
Pair with Leggings

— If permitted, pair your

scrub top

with leggings for a comfortable and stylish ensemble.
Invest in Stylish Clogs

—

Don't forget about your shoes

! Choose comfortable, supportive footwear that complements your scrubs. While conventional clogs are always a reliable choice, many of our customer prefer athletic-inspired shoes such as these

knit shoes from Sanita

. 

 
Maintain a Professional Look

— While adding personal touches, ensure your overall appearance still maintains a professional and tidy look.
Wrinkle-Free is Key

— Keep your scrubs wrinkle-free for a polished appearance throughout your shift. TO do this, our customers often use steam cleaning or drying techniques. 
Functional and Fashionable Scrub Alternatives
For those seeking alternatives to traditional scrubs, options like scrub jackets and lab coats provide both style and practicality. These outer layers not only offer an added layer of protection but also come in a variety of designs and colours to suit personal preferences. Combining scrub tops and bottoms in complementary hues can also create a cohesive and fashionable ensemble.
Scrub Jackets and Lab Coats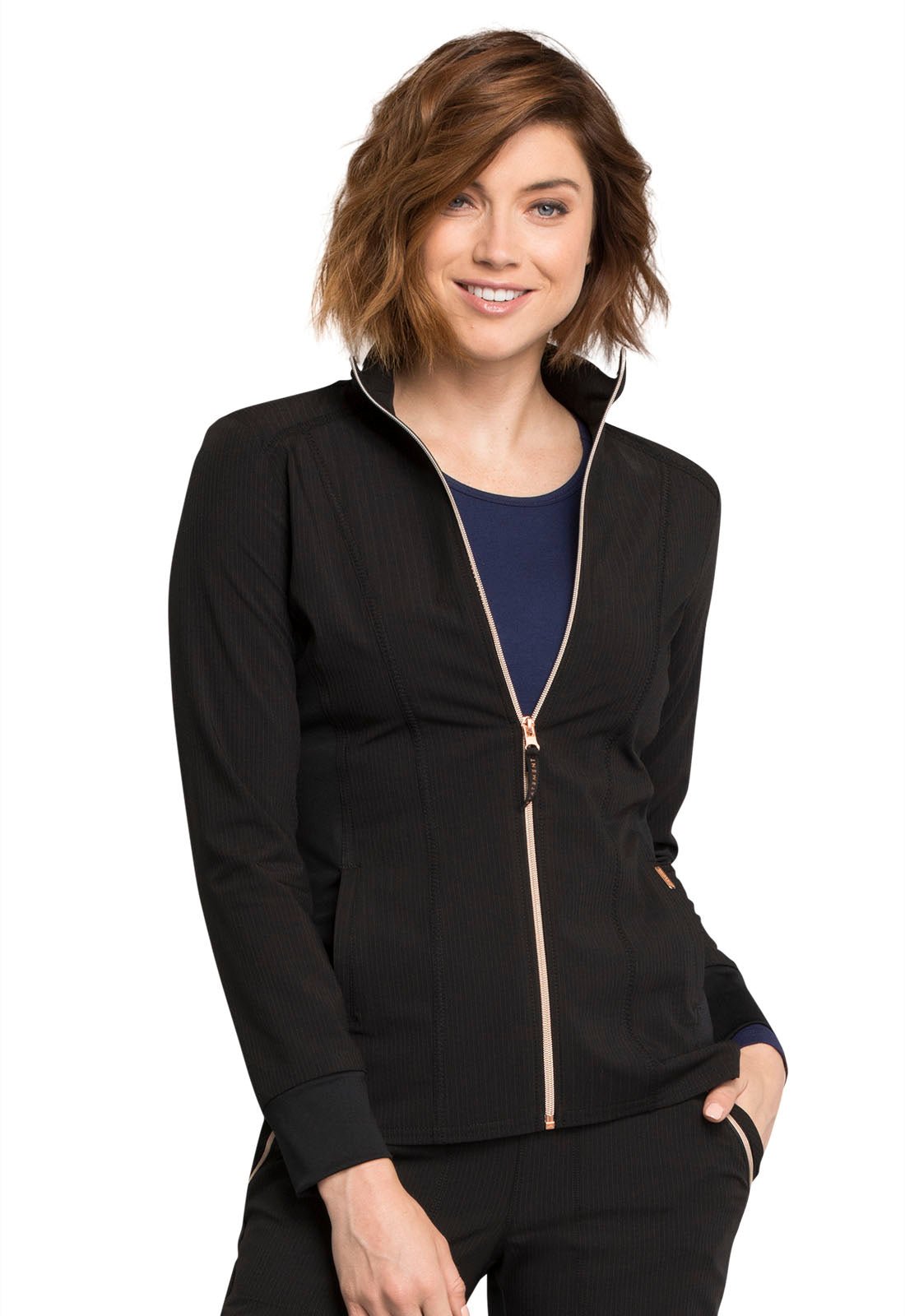 Scrubs jackets and lab coats serve as versatile additions to a healthcare professional's wardrobe. These outer garments not only offer an extra layer of protection against pathogens but also come in a range of styles to suit different preferences. Opting for moisture-wicking fabrics ensures comfort during long shifts.
Scrub Tops and Bottoms Combos
Mixing and matching scrub tops and bottoms allows for personalization while adhering to professional standards. Choosing colours that complement each other and flatter the individual's skin tone can create a cohesive and fashionable look. Additionally, selecting well-fitted garments in high-quality fabrics ensures both style and comfort.
 
Fashionable Scrub Brands and Designs
Investing in scrubs from reputable brands known for their quality and stylish designs can elevate the overall appearance of healthcare professionals. Brands that offer a variety of cuts, colours, and fabrics allow for greater customization, ensuring that medical professionals feel confident and comfortable in their attire.


Essential Tips for Maintaining and Caring for Fashionable Scrubs
Caring for any kind of clothing is essential to ensure they remain in pristine condition and continue to function properly. When it comes to scrubs, however, more care must be taken, particularly when dealing with hard to clean stains and the general rigours of medical facilities.
Firstly, following proper laundering instructions, avoiding harsh chemicals when possible, and promptly treating stains are key steps in maintaining the longevity of scrubs. Additionally, investing in high-quality undergarments and ensuring a wrinkle-free appearance enhances the overall professional look.
Today, wearing scrubs is not just a matter of dress code—it's an opportunity to express personal style while still maintaining professionalism. By choosing high-quality, well-fitted scrubs and incorporating functional and fashionable alternatives, you can look and feel your best even during the most stressful days on the job.
For more information on contemporary scrub styles and fits contact the ScrubsIQ team today and explore the blog.