If you're shopping around for medical scrubs for any role in the healthcare industry, there's plenty of options available today that allow you to find the right fit. However, two brands that are widely regarded by healthcare workers everywhere are Dickies and Cherokee—with both brands offering a range of high-quality nursing scrubs and other medical garments for both men and women. 
Of course, each brand has its own pros and cons, and choosing between the two can sometimes be difficult. That's why we've put together this guide on Dickies vs. Cherokee scrubs, giving you the chance to learn the difference between these two top brands. Read on to learn more and find your next favourite set of scrubs at ScrubsIQ.


Dickies Scrubs
Overview
Dickies is a big player in the
workwear
industry, offering a huge range of clothing, uniforms, and today through
Dickies Medical
, even scrubs. Like much of the rest of its catalogue,
Dickies brand
scrubs are designed to meet the demanding requirements of professionals in a range of settings, providing comfort, durability, and
functionality
.
Crafted with high-quality materials that can withstand the specific challenges posed by healthcare environments, Dickies is a brand you can trust, and its Dynamix line of scrubs will last even with frequent use and washing—something particularly important to medical professionals. In addition, Dickies scrubs feature a range of contemporary styles that add a vibrant athleisure aesthetic to your uniform.
As part of the Dynamix collection, they offer scrubs pants in cargo, skinny, and jogger-styles that provide a sporty-casual look, many with drawstring closures for extra comfort. Added to this is the use of lightweight, moisture-wicking, four-way-stretch fabric, that is both flattering and up to long days on shift. Well-placed pockets and other clever storage features also ensure they are supremely functional. 
When it comes to scrub tops, Dickies provides a range of designs to suit individual preferences, with v-neck scrub tops a popular choice among medical professionals. V-neck tops provide a flattering neckline and often have functional features like multiple pockets for storage of essential items. Dickies also offers mock wrap tops, which provide a stylish and feminine look while maintaining practicality and professionalism. 
Dickies scrubs are available in male, female, and unisex sizes, ensuring a good fit for any body shape and size, with additional recognition of healthcare professionals with plus sizes. This inclusivity makes Dickies Dynamix scrubs accessible to a wide range of people, and a broad palette of colours means they will fit seamlessly into your healthcare facilities uniform requirements.


Why Choose Dickies Scrubs?
There are several reasons why you might choose Dickies scrubs for your workwear needs. Firstly, Dickies scrubs are known for their durability, with the brand's scrubs made from high-quality materials that can withstand the demands of a healthcare setting, including frequent washing and exposure to various chemicals. In addition, functionality is another key feature of Dickies scrubs, however, this doesn't mean you have to compromise on style with options such as straight leg pants and jogger-style pants, as well as various scrub top designs.


Cherokee Scrubs Overview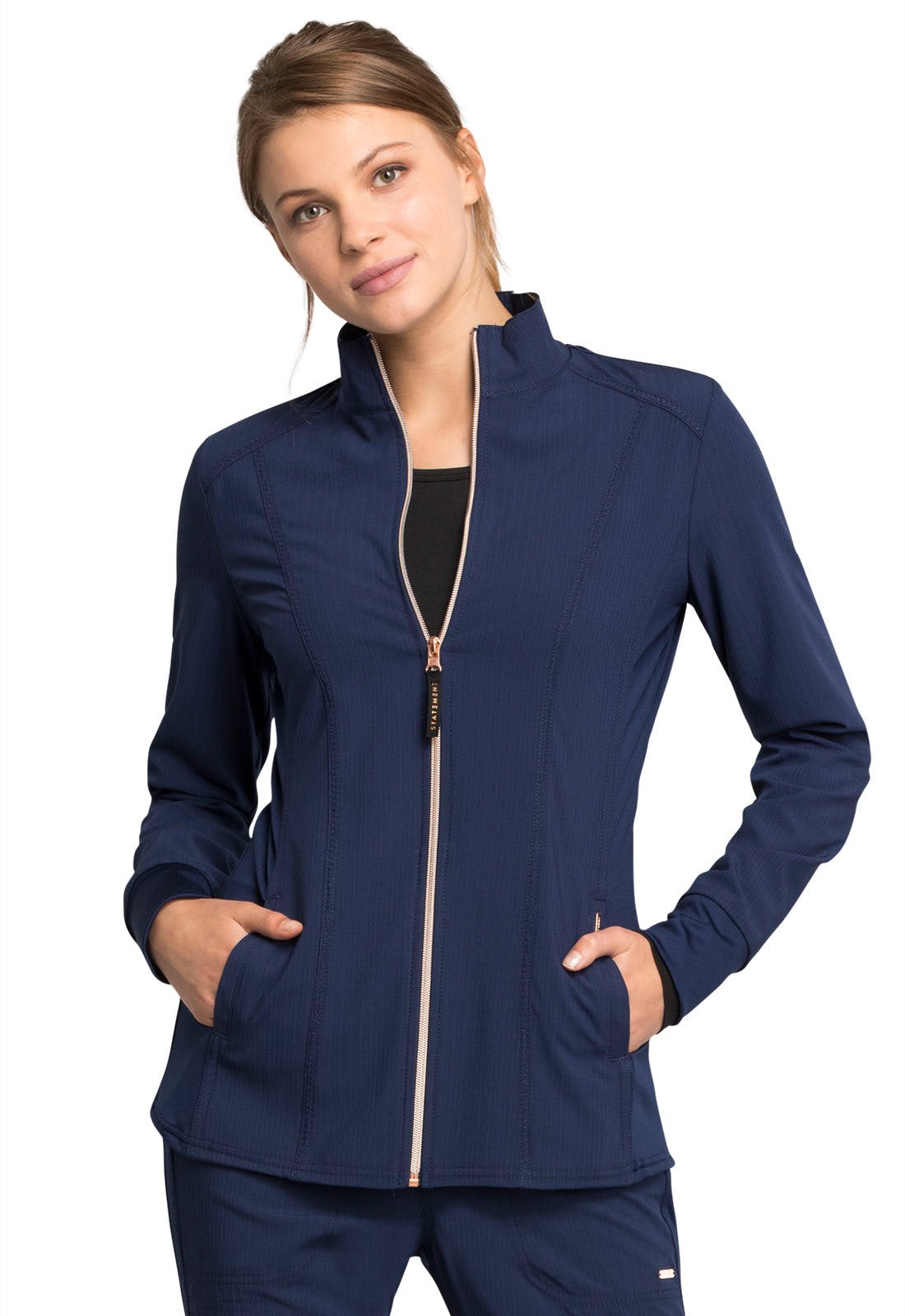 Cherokee is another well-known brand in the scrubs industry, however, it offers a much broader range of medical apparel and uniforms. Cherokee workwear takes in collections such as Infinity, Revolution, Statement, and Form among others, meaning whether you're looking for classic scrubs or something more contemporary, Cherokee has the perfect fit.
Cherokee scrubs are designed with both style and functionality in mind, providing options for healthcare professionals to express their personal preferences a while maintaining a professional look. This means various styles of scrub pants, tops, and jackets that cater to differing uniform requirements and body types.
The Cherokee range is so broad that it's difficult to pin any particular feature down, however, you will find scrub pants that provide a customizable fit, allowing you to adjust the waistband according to your comfort level. Additionally, Cherokee offers jogger-style scrub pants, which have become increasingly popular due to their modern and trendy appearance. Jogger-style pants often feature elastic cuffs and a tapered leg, creating a sleek silhouette. 
When it comes to scrub tops, Cherokee provides a variety of designs and necklines. V-neck scrub tops are a common choice among healthcare professionals, and Cherokee offers different variations of this style, allowing individuals to find the neckline that suits them best. The brand also offers mock wrap tops, which provide a stylish and feminine look while maintaining functionality and professionalism, alongside polo shirts, jackets, and lab coats.
Finally, In terms of sizing, Cherokee offers a wide range of options—ranging from XXS to plus sizes, ensuring that individuals of all body types can find scrubs that fit comfortably. This inclusivity allows healthcare professionals to feel confident and comfortable in their workwear, while breathable stretch fabrics that allow for ease of movement throughout the day provide flexibility and agility in their nursing uniforms and medical apparel.
Why Choose Cherokee Scrubs?
Again, Cherokee scrubs are known for their high-quality construction with excellent attention to detail that ensures that their scrubs are made to last. The use of quality fabrics and sturdy stitching ensures durability even with regular use and washing, while the use of breathable fabrics that allow for air circulation help to keep you cool and comfortable throughout your shifts. Additionally, The variety of styles and designs offered by Cherokee is another reason to choose their scrubs, with plenty of options available including collaborations with franchises like Grey's Anatomy and Tooniforms to add an element of individuality to your workwear.
Differences Between Both Brands
It's easy to find both similarities and differences between these two celebrated scrubs brands and boiling them down is a difficult task. However, you might consider these four points when comparing the two:
Style

— Dickies scrubs often have a more traditional and rugged workwear aesthetic. They focus on functionality and durability, with classic designs and solid colours. Cherokee scrubs, on the other hand, offer a wider range of style options, including collaborations with popular franchises and brands. This allows for more diverse and fashionable designs, with a mix of solid colours and vibrant prints.
Design Options

— Dickies scrubs provide a range of practical design choices., including various styles of scrub pants, such as straight leg and jogger-style, and scrub tops with v-neck or mock wrap designs. Cherokee scrubs also offer these options but go a step further by incorporating trendy details like elastic cuffs and tapered legs in their jogger-style pants, as well as additional necklines and design variations in their scrub tops.
Brand Reputation

— Dickies has a long-standing reputation as a trusted workwear brand, known for its high-quality and durable products. Their scrubs are often associated with reliability and a more traditional workwear aesthetic. Cherokee, on the other hand, is recognized for its blend of style and functionality. They have a reputation for offering scrubs that combine fashion-forward designs with practical features, appealing to those seeking both comfort and style.
Collaboration Collections

: Cherokee stands out for its collaboration collections with franchises like Grey's Anatomy and Tooniforms. These partnerships offer scrubs featuring characters and prints inspired by popular TV shows and movies, allowing healthcare professionals to showcase their individuality and interests. Dickies, on the other hand, focuses more on their core line of workwear scrubs, without extensive collaborations with external brands.


Which Is the Best Scrubs Brand?
When it comes to choosing the best nursing scrubs and medical uniform brand, it ultimately depends on your personal preferences and needs. Consider factors such as style, comfort, durability, and functionality. Read customer reviews, compare specific features and designs, and consider your individual requirements as a healthcare professional. By considering these aspects, you'll be able to make an informed decision and choose the scrubs that are best for you, however, if you are looking for more information on either Dickies or Cherokee scrubs, contact us today to discuss your needs and stay tuned to the blog for more information on healthcare workwear for any role.